Sssshhhh! Don't tell Mickey that we've cracked the code on how to keep coming back for less!
It's no secret: our family, just like millions of other families, loves Disney. We go to celebrate birthdays, anniversaries, holidays, and, of course, summer vacations. It's pretty hard to see it all, even with multiple trips, but we also have to revisit our favorite attractions and resorts, too. Common statements our family hears about our repeat visits include such greatest hits as: "Wow, you guys are already going again? Must be nice!" or "I just want to get there once. How do you all do it?" and my personal favorite, "Hmmm, so you guys are rich, huh?" (No joke, this one was from my son's 6th grade teacher). And while we live comfortably, we are not what most people would consider rich. What we have done, however, is figure out the biggest ways for our family to save on our trips. Some of these tips are geared towards the repeat visitor, while others are good for first-timers, too (especially our last tip, so make sure to stay for the grand finale)!
The Beauty of the Bounceback Offer
If you're unfamiliar with bounce back offers, they're usually a specially discounted rate offered for your next visit, like when you're on a cruise and you save by booking your next cruise while you're still on board. Disney also offers bounce back offers and they're one of the best kept secrets of guests that visit Disney World often! I'm truly shocked by the amount of people that are frequent, diehard Disney World fanatics and have never heard of their bounce back offer. I didn't know about it until I became a Cast Member. Why, you may ask? Disney does NOT advertise their bounce back rates. You know that little stack of brochures in your Disney resort hotel room that you may or may not have time to look at while you're there? It's sneakily mixed in with those. You pretty much have to be looking for it to know it's there. The catch: you need to call to book from your in-room phone while you're still checked in. Or by the end of business hours on the day you check out, at the very latest. Have an amazing travel agent that you'd love to work with again and book a bounce back? You can do that! Just book with Disney while you're still checked in and then let your travel agent know within 30 days of booking that you'd like to transfer the reservation to them. Easy peasy!
Annual Passes
This one may or may not be a good fit for you, but if you really want to visit Disney multiple times within one year's time, then you may want to consider annual passes. What's important here is to look at what dates you would be staying in Disney and calculate if the ticket cost would exceed the price of an annual pass. If it does, you would probably be a great candidate for an annual pass. Think the pricing would be super close either way? You still may want to think about buying just one annual pass instead of AP's for the entire family, just for the associated discounts. Annual passholders enjoy discounts on Disney resort hotel stays (usually between 25%-40%), 10% off merchandise (at the time of writing, pass holders save 30% on merchandise!), and 10% off dining at select restaurants. Passholders also get the option to purchase a Tables in Wonderland card for savings of 20% on dining at Walt Disney World. Disney also offers pass holder exclusive merchandise, like magic bands, pins, and t-shirts, as well as complimentary Memory Maker (depending on the level of pass purchased) and complimentary parking at the theme parks. One other big perk? Passholder previews for new attractions and special events.
Pay with Discounted Disney Gift Cards
Regular readers of this blog know that this is my favorite tip in general for saving at Disney, for first time and repeat visitors alike. If you want to save around 5%, look at buying gift cards at Sam's Club, BJ's, Costco, or with the Target RedCard. My other favorite way to save on discounted Disney gift cards is to buy them from giftcarddeal.com. They offer a HUGE 15% to 20% discount! I was skeptical of this site, but decided to try them out and they are legit. Definitely don't buy cards from them last minute as it does take them a few weeks to email it to you, so give yourself plenty of time. They do sell out of these gift cards fast, so sign up for email notifications for when they are restocked.
You can then use these gift cards to pay for your resort hotel stay, tickets, dining, and souvenirs. Stack those discounted cards with a discount like a bounce back offer to save up to 50% on your Disney resort hotel stay! I also use sites like Swagbucks and Inbox Dollars for free Disney gift cards. If you want learn more about these sites and other ways to earn free Disney gift cards (or free gift cards in general) check out my article here. I also used these sites and apps to even take a free long weekend trip to Walt Disney World a few months ago! We had a blast, and it was somehow even more fun knowing that I managed to pull it off for free! I have an entire post breaking it down step by step, so you can do it, too. You can read more about it here. In related savings news, I also have a super easy hack on how to rack up HUGE savings at Rainforest Cafe, T-Rex Cafe, and Yak and Yeti in Animal Kingdom. Learn more about the easiest ever Disney dining hack here. (I realize that is a ton of related links, but trust me: this is news you can use for major savings!)
Last but not least, rent DVC points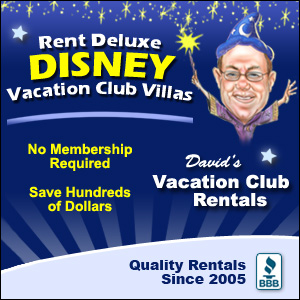 Renting DVC points can be a huge money saver if you want to stay at Deluxe DVC resorts. What is DVC, you ask? DVC is the Disney Vacation Club, Disney's version of timeshare. I'm a travel agent and occasionally get a decent discount, but they're pretty limited and hard to come by. I still use DVC rentals to save big time, and tons of other travel agents do this, too, along with other frequent Disney returning guests. How it works: DVC owners that aren't able to use their points partner with a broker to rent out their points to other guests at a deep discount. You can also rent directly from a DVC member, but this is a major gamble since they could technically take over the reservation and leave you hanging (this is why I always recommend working with a reputable broker, like David's Vacation Club Rentals). How big are the savings? Let's compare….
Let's say you've decided to take your family to Disney World the first week of January 2022 and your dream is to stay in a luxurious one bedroom villa at the Beach Club. Booking directly through Disney (regular rate, without any discounts) would be $5006.26 for the week. Ouch. You could hold out for a discount, which is likely but definitely not guaranteed to be available. If you rent from a DVC broker, such as David's the same one bedroom villa would be $3560 for the same dates (both rates are for the room only and don't include tickets, travel insurance, or any other extras). That's a direct savings of $1446! You may have some questions about renting DVC points, so I have you covered there, too. Let's dive in….
Frequently asked questions about renting DVC points
• Is renting DVC points from companies like David's Vacation Club Rentals legit?
Yes, David's is definitely legit and even offers a 100% satisfaction guarantee. Your reservation won't be taken back by the owner and they stand behind their reservations. Their customer service is second to none and they won't leave you hanging after booking. If you have any questions or concerns, they're super responsive and prompt with their replies. There are other DVC brokers and rental companies to consider, but if you want to rent DVC points, you can't go wrong with David's. Other options, such as renting points from members on forums, or even from eBay, exist but are more high risk. I wouldn't take the chance on this, personally. I can't imagine traveling and investing the time and money into it only to have it potentially taken away from an uncouth scammer. Be very cautious if this is the rental method you choose.
• So if the price is so much lower and it's legit, what's the catch?
Renting DVC points may not be a good fit for everyone for a few reasons. First, you'll need to pay in full up front with most companies, which is more of a financial commitment than booking with Disney and making payments over several months. Second, you cannot modify your dates or cancel. This is huge, especially considering our current travel (and life in general) situation. This is where purchasing a good travel protection plan comes into play. Life happens and you don't want to be stuck without any form of reimbursement for such an investment. Read the fine print on your policy to make sure it would cover any scenarios you foresee. Lately, there have been tons of confirmed reservations that are priced even lower due to their owners deciding not to travel for whatever reason. This can also be a huge way to save on your Disney resort hotel stay.
• Which hotels are DVC resorts? Are all Disney hotels included?
DVC resorts are all considered deluxe resorts, so it won't include your value and moderate resorts. All DVC resorts have studios and villas, which include one bedroom, two bedroom, three bedroom, and grand villa options. A few have super unique options, like the treehouses at Saratoga Springs and the over the water bungalows at the Polynesian. Here is a list of all 12 of the current DVC resort options for rental at Disney World:
• Disney's Old Key West (the original DVC resort)
• Bay Lake Tower (the sister resort to the Contemporary resort)
• Boardwalk Villas
• Disney's Riviera Resort
•Boulder Ridge Villas at Disney's Wilderness Lodge
• Disney's Beach Club
• Animal Kingom Lodge: Jambo House and Kidani Village
• Copper Creek Villas and Cabins at Disney's Wilderness Lodge
• Saratoga Springs Resort & Spa
• Polynesian Villas & Bungalows
• Disney's Grand Floridian Villas
• Coming soon: Disney's Reflections Lodge
There's also the Grand Californian in Anaheim at Disneyland, Aulani in Hawaii, and two beach resorts: Disney's Hilton Head Island Resort and Vero Beach Resort. You can rent DVC points for all of these resorts, too. Both beach resorts are fantastic options if you're visiting WDW and want to add in a beach stay with a Disney touch!
Disclaimer: This article may contain affiliate links which may result in a commission. We only recommend products and services that we use ourselves and stand behind 100%. There is no obligation to purchase nor any additional cost to you for using an affiliate link. The Wandering Homebody Blog is not responsible for any technical issues or damages resulting from 3rd party links.